© The Wu-Tang Corp.- 2007-01-10

Never before has there been such a comprehensive documentary about the art of beat making. Allah Mathematics (of the Wu-Tang Clan) reveals the science behind the origins of hip-hop music with the genre's greatest producers in the all new DVD, BEAT KINGS: The History of Hip-Hop (Nature Sounds) available on January 23rd, 2007.

Beat Kings is a 66 minute film that gives the viewer an exclusive look into the architects behind the rhyme. Hear it first hand from the musical legends that shine light on Hip Hop's brightest stars like Jay-Z, Biggie, and Nas. Beat Kings brings the public into the producers private studios as they reveal the secrets behind making hit records. Mathematics interviews stars like Kanye West, Just Blaze, Havoc (Mobb Deep), Trackmasters, Swizz Beatz, RZA, DJ Premier, Pete Rock, Marley Marl, Alchemist, David Banner, Easy Moe Bee, Prince Paul, and more as Beat Kings chronicles the history of beat making from its early beginnings into the 21st century.

Producers provide information on the equipment they use, how they learned how to use it, and how they developed their style. Veterans will take a look at this milestone DVD as a breath of fresh air, while newcomers will be able to learn the ropes from the legends themselves. Viewers will also have the privilege to hear the producers' opinions on the current state of Hip Hop music, where hip-hop came from, and where it is going. Respect the Architects, respect the Beat Kings.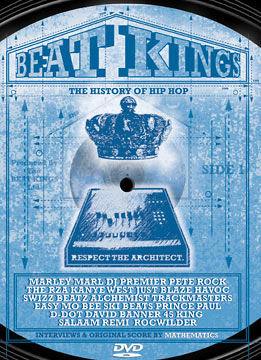 DVD Chapters:

01. Introductions
02. History: The Beginning
03. DJing: The Cornerstone
04. Equipment: Tools Of Trade
05. Influences: The Fundation
06. The Business: Build To Last
07. Discography: The Blueprint
08. Hip Hop Today: Under Construction
09. Advice: The Science

Bonus Scenes:

10. Outtakes
11. Beat Battle

http://www.youtube.com/watch?v=_Aj-Eg5gWAc